Bhubaneswar, Aug 26: Tomatoes have long been cherished as an essential ingredient in countless Indian households, adding their delightful essence to bhajis, sandwiches, pizzas, and an array of other dishes. However, recent weeks witnessed an unprecedented surge in tomato prices, prompting many families to seek out alternatives. But happy to share with you that, tomato prices have significantly dropped in the country, making it an ideal time to have some recipes for tomatoes that are sure to tantalize your taste buds and leave you craving for more:
Tomato Soup: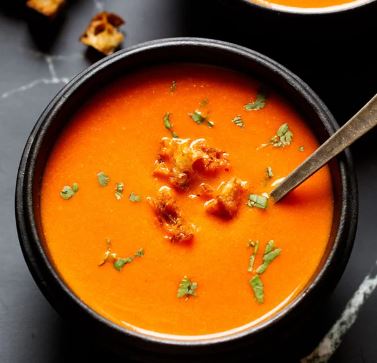 Heat oil whether olive or refined over medium heat. Add chopped onion and sauté until translucent. Add minced garlic and sauté for about 30 seconds until fragrant. Add your favorite vegetables and later some chopped tomato to the pot. Stir and cook for about 3-4 minutes until the tomato releases its juices. Add dried basil, dried oregano, and a pinch of red pepper flakes to the pot. Stir well to combine and enhance the flavors. Let it cook for about 10-15 minutes. Once the vegetables are tender, carefully blend the soup using an immersion blender until smooth. Season with salt and pepper according to your taste.
Stuffed Tomato: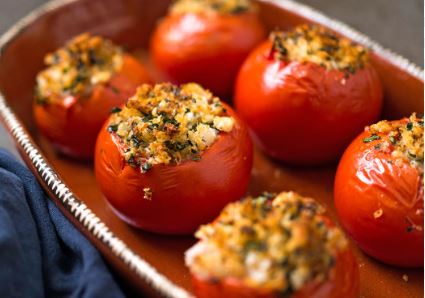 Cut the tomatoes in half and partially scoop out the inside and reserve. Put the top side down to see if they are flat, if not shave off the uneven top so the tomato can be placed flat. Take a medium bowl, add onion, coconut, salt, jaggery, red chili powder, turmeric, garam masala, and cilantro and mix well. Fill the hollowed tomatoes with the stuffing. Heat the oil in a large frying pan. Add mustard seeds and allow them to splutter. Add asafoetida and lower the heat. Carefully place the stuffed tomatoes in the pan facing the stuffed side up. Cook covered on medium heat for 5 to 7 minutes.
Tomato Biriyani: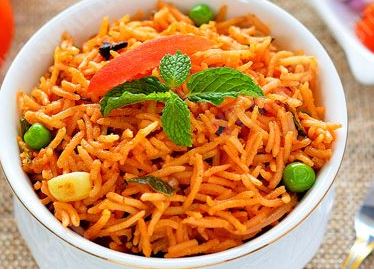 Heat a pressure cooker. Add ghee to the cooker. Add bay leaf, cinnamon, cloves, cardamom and fry for few seconds. Add chopped onion along with ginger-garlic paste and saute the onions till translucent. Add chopped tomatoes and cook the tomato puree in low flame till the onion-tomato mixture becomes thick and ghee oozes out of the mixture. Add biryani masala and give a mix. Then add the soaked and drained rice. Add salt along with turmeric powder and give a gently mix. Gently mix. Add 1.5 cups of water and give a good mix. Let the Biryani cook in low flame for about 20 mins.
Tomato Rasam: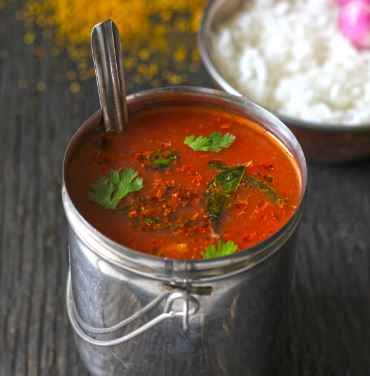 Heat oil and add in mustard, cumin, and asafoetida and curry leaves. Add in the ground masala and cook till oil separates from it. Add in chilli, pepper and turmeric powder. Along with some salt and sugar mix well. Add some chopped tomatoes and slit green chillies. Mix well. Add in tamarind pulp and water. Mix well. Add in crushed garlic cloves and mix well. Bring it to boil, once it starts to boil, turn off the heat and add in lots of chopped coriander leaves, Mix well. Cover it till serving.
Aloo Tamatar Curry: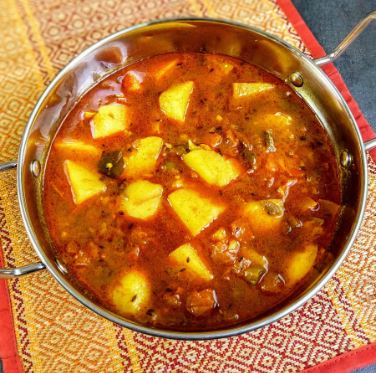 Boil potatoes and peel once cooled. Grind tomato, green chilly and ginger to make a fine paste.
Take some oil; add asafoetida and cumin seeds when oil is hot. After sautéing cumin seeds, add turmeric powder and coriander powder as well. Stir nicely with a spoon and now add tomato paste in the masala and saute until it gets grainy in texture. Crumble the potatoes and add in this masala and keep stirring for 2 minutes. Add 1 glass water, salt and red chilly powder. Cook for 3 to 4 more minutes. Add garam masala powder at last.