Mrinal Chatterjee
Hills and mountains fascinate me. So do the sea and rivers and forest. But like many the mighty Himalayas have a special place in my heart. For a long time, I wanted to visit Leh, the head quarters of Ladakh union territory. One way or the other, it was not happening. One rainy morning in early -June a flash of thought occurred as I was going through Khalifa Gibran's writings: if not now, then when? I asked my son to book my tickets to Leh. By evening accommodation in Leh was arranged, thanks to my former student Bato Bomjen. Some fringe benefit of being a teacher for over two decades.
So off to Leh.
The Cold Desert
As the aircraft gradually descended from high above the snow clad mountains and approached Leh, I got goosebumps looking outside my window. Mountains completely barren, not even a blade of grass- surrounded the runway. Now I realised why Ladakh is called cold desert.
In Sanskrit there is a word BHIMKANTA, which means simultaneously frightening and beautiful. It was just that.
You'll always be at awe with even as you fall in love with it.
Leh Diary
Leh is located at an altitude of 3,524 m (11,562 ft). Just to give a perspective Gulmarg in Kashmir lies at an altitude of 2,650 m (8,694 ft). Shimla has an average altitude of 2,206 metres (7,238 ft). Gangtok lies at 1700 meters(5700 ft). Mount Everest , the highest of the Himalayan mountains, is at 8,850 meters (29,035 feet).
The scarcity of oxygen at a great height is the major cause of Acute Mountain Sickness in entire Ladakh. Decreased air pressure and less oxygen content are quite common at higher altitude. When you scale such heights, your body may not get enough time to adapt to the changing surroundings.
Therefore it is advised to take about 24-36 hours rest as you arrive in Leh.
I experienced slight discomfort, but after almost two days of rest, I was fine and ready to explore Leh.
Leh Palace
Built on 16th century Leh Palace is a nine story structure on top of a hill and sorrounded by mountains. Built up of mud, wood, sand and stones, it is an architectural marvel.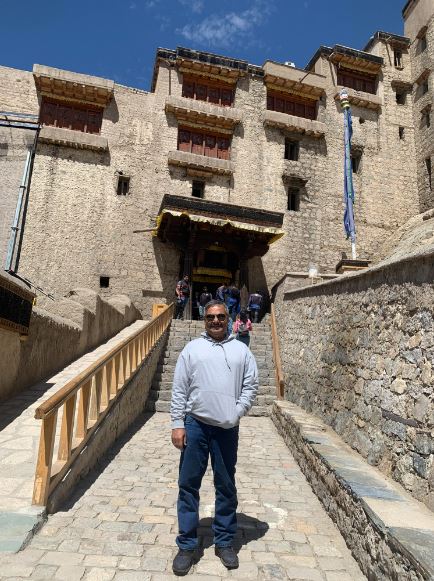 It was built by Sengge Namgyal although the foundation stone was laid by the ruling dynasty's founder Tsewang Namgyal.
It served as the regal residence of the Namgyal dynasty until the mid 19th century, after which the royal family permanently shifted to Stok. In present times, the palace is maintained by Archeological Dept. of Govt of India.
Sharing its resemblance with the popular Potala Palace of Lhasa, the Leh Palace is a wonderful specimen of the medieval Tibetan style of architecture.
Beauty Parlour for Shoes and Chappals
Saw this board at Leh bazar. Now that's what I call innovative advertisement. And see the wonderful copy. ' beautification of life-less shoes and chappals done here'.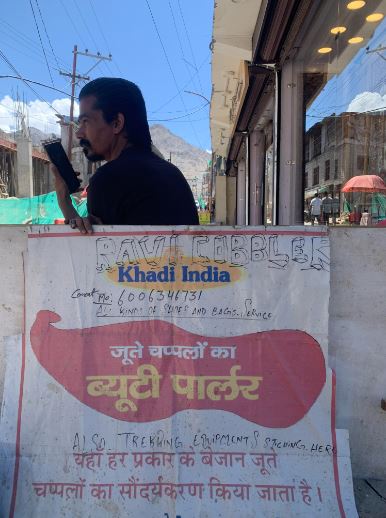 Disclaimer:
This is the personal opinion of the author. The views expressed in this write-up have nothing to do with www.prameyanews.com.