Mrinal Chatterjee
I always wanted to visit the town since the Kargil conflict in May-July 1999. The town, surrounded by mountains and located on the bank of river Suru looks picturesque from a distance. But inside, it is clumsy and chaotic. Cleanliness is probably not a virtue here. Kargil conflict is still alive in public memory. A small memorial has been built. The only saving grace for Kargil probably is the apricot. The district of Kargil (Leh union territory has two districts- Leh and Kargil) produces the best quality apricots in India.

Apricot
Ladakh is the biggest apricot producer in the country with a total production of 15,789 tonnes that constitutes nearly 62 percent share in total. The region produced approximately 1,999 tons of dried apricot, making it the largest producer of dried apricot in the country. Incidentally Kargil region produces the best variety of Apricot. On my May from Kargil to Drass I saw many apricot orchards. Apricots (Prunus armeniaca, locally called Chuli) are stone fruits also known as Armenian plums. Round and yellow, they look like a smaller version of a peach but share the tartness of purple plums. They are very nutritious and have many health benefits, such as improved digestion and eye health. Apricot jam is available. Dried Apricot seeds are also eaten.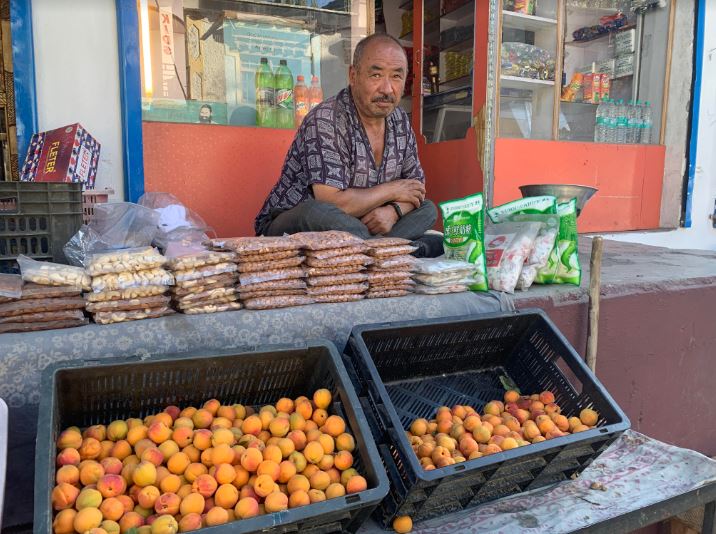 Ladakhi Dress
In the main market of Leh, I found a shop which had traditional Ladakhi dress for ladies on display. Went in. The colourful dresses looked elegant. Thought of buying one for wife. I even imagined how she would look in this colourful attire. Asked the price. The elderly shopkeeper said, Eight Thousand rupees.
- Eight Thousand! I exclaimed.
- Eight Thousand, he said with a firm voice.
I said, OK.
And left the shop.
Abandoned the idea of buying a Ladakhi dress from her.

Circle of Life
As I sit idly on the balcony of my hotel in Leh, I see kids from three to ten and beyond playing on the lawn. They run, play, laugh, shout, fight among themselves. The sun sets beyond the rugged hills. Darkness sets in. Stars appear. Kids go home. I continue to sit and look around. Tomorrow again the sun will rise. Again the kids will come to play. But they'll be one day older. I'll be one day older. One day, this place will have different sets of people- there at the lawn and here at the balcony. The sun will set to rise again the next day.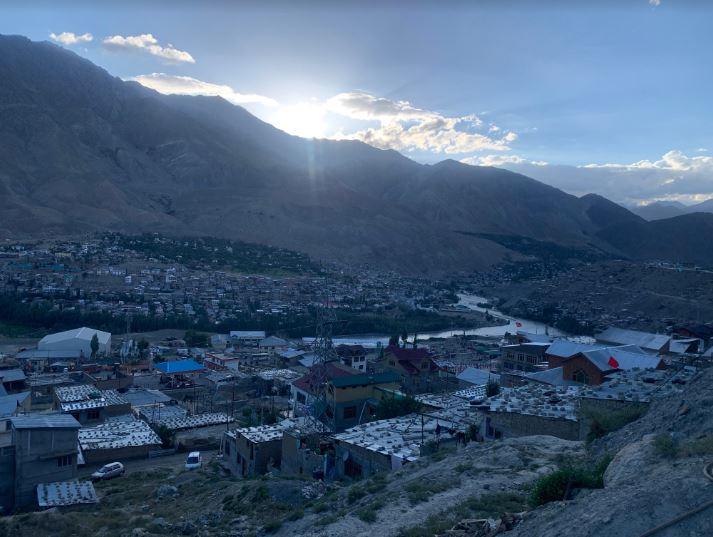 Garrulity Quotient
I thought Bengalis are the most garrulous lot in India. But on my recent trip to Leh, I discovered that Gujaratis have far outdone the Bengalis.
They cannot keep silent even at the places of worship. After darshan and Pranam , etc. they will discuss about the deity, who else had visited it earlier and so on and so forth- right there. At the Shanti Stupa a group of Gujaratis men and women were animatedly discussing share prices.
Disclaimer:
This is the personal opinion of the author. The views expressed in this write-up have nothing to do with www.prameyanews.com.