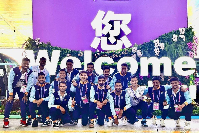 Indian men's badminton team claims maiden silv...

Youth weaves out own abduction plan to grab co...

WhatsApp disables record 7.4 million suspiciou...

President of India's greetings on the eve of G...

Covid-linked brain ailment claims life of Amer...

Motorcycle rams into pump house, 2 killed in N...

3 bodies recovered from roadside in Kalahandi,...

Excise collection in Odisha sees 368 % growth

PM wishes former President Ram Nath Kovind on...

PM condoles loss of lives in Tamil Nadu bus ac...

Prime Minister takes part in cleanliness drive...

PM congratulates Dr Mohamed Muizzu on being el...