Bhubaneswar, Oct 9: Chief Minister Naveen Patnaik on Monday paid tributes to Utkalmani Pandit Gopbandhu Das on the occasion of his birth anniversary.
Taking to his official X (formerly Twitter) handle, Patnaik wrote "I pay my respects on the birth anniversary of Utkalmani Pandit Gopbandhu Das, a unique symbol of service and sacrifice and a great freedom fighter. His life-long dedication to the service and betterment of the people and the path he showed to build an educated society by establishing Satyabadi Bana Bidyalaya in Suando has always been a source of inspiration."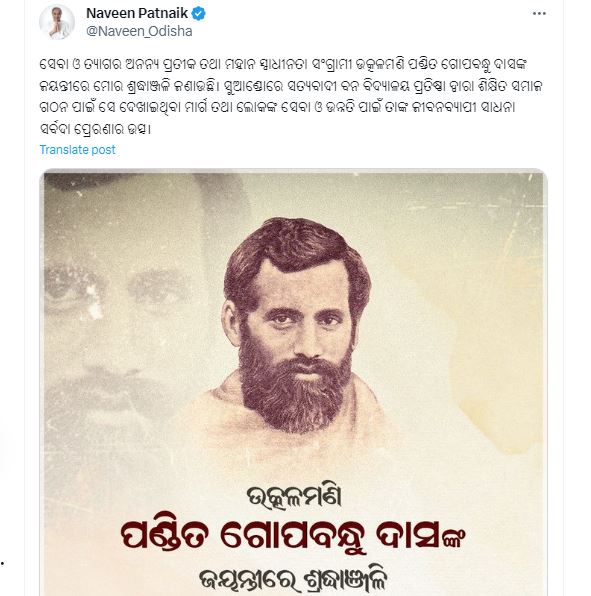 Notably, Gopbandhu Das was born on October 9, 1877 at Soando in Janapuri district.
He actively participated in the Uttarakhand Conference convened by Madhusudan Das in 1903 and paved the way for the formation of a separate Odisha province in 1936.
He was elected as a member of the Bihar-Odisha Legislative Assembly from 1917 to 1921 and later became the first chairman of the Odisha Pradesh Congress Committee.