Mumbai, Nov 16: Actress Anushka Sharma expressed her deep emotions following her husband, Virat Kohli, achieving his 50th ODI century in the World Cup semi-final against New Zealand at Mumbai's Wankhede Stadium.
Kohli's stellar performance, scoring 117 off 113 balls, contributed to India's formidable total of 397 runs in the first semi-final.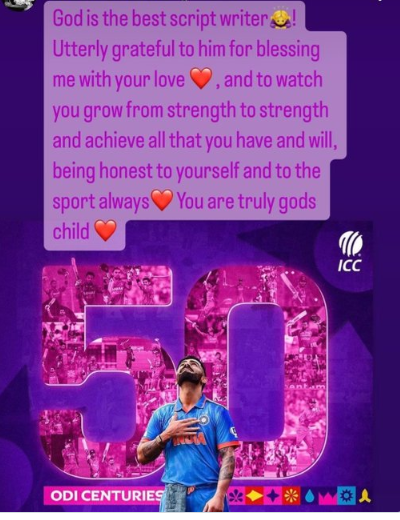 Present at the stadium to support her husband, Anushka praised Kohli not only for his outstanding batting but also for being an integral part of her life.
Taking to her Instagram, she shared a heartfelt message, attributing their love to a divine script written by God. She expressed gratitude for witnessing Kohli's continuous growth and accomplishments, emphasizing his honesty to both himself and the sport.
Overwhelmed with excitement, Anushka blew flying kisses to Kohli, who reciprocated the gesture with appreciation and support. After achieving his 50th century, Kohli officially surpassed cricket legend Sachin Tendulkar, setting a new world record for the highest number of centuries in ODI cricket.
In a post-innings break statement, Kohli described the moment as surreal, emphasizing his primary goal of contributing to the team's success. He acknowledged his assigned role in the tournament and expressed determination to give his best for the team.