Mayurbhanj, Nov 7: Be it about art, culture, food or festival, Mayurbhanj district holds a unique and special place. A recent incident has again proved it right. During the ongoing Mayurbhanj festival, a couple tied knot on the stage, in front of thousands of audiences with the tribal rituals.
The scene was real and unique and astonished everyone present over there. The stage was set for the bride's house where the family of the bride was waiting for the groom and baarat. The groom reached the stage on the shoulder of his brother amid traditional music and dance.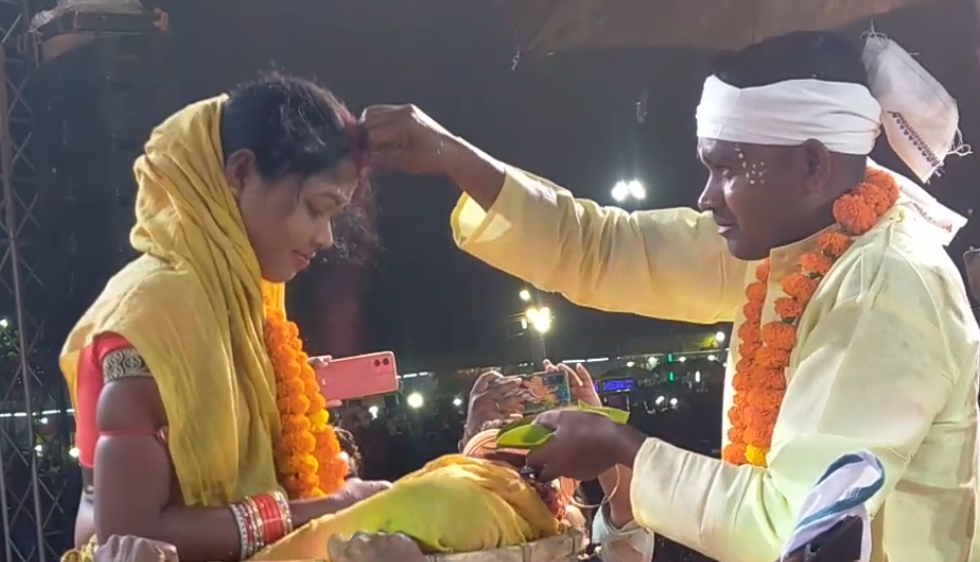 As per the tradition, the bride also came by sitting in a basket on her brother's shoulders. The marriage was happily completed after the groom applied Sindoor (vermilion) on the bride's forehead. With the unique culture and tradition, Rajen Murmu of Mundakata village under Kuliana block and Golapi Murmu of Baghada village under Suliapada block of the district became partners forever.
"I am really blessed that I got married with the presence of thousands of people and with the blessings of everyone. The marriage completed with our tribal ritual and I had never thought that my marriage would happen on such a big stage. I will never forget this special moment in my life", said groom Rajen.
We were in a love relationship for the last few years. However, it was like a dream come true for us. We never thought that our marriage would be so special. All thanks to the organizers and both of our family for being supportive and accepting our relationship, said bride Golapi Murmu.